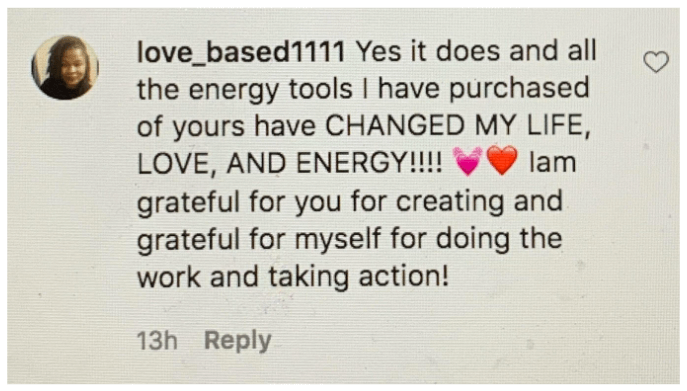 I strongly suggest checking it out
"Cassady has a great program to help with clearing cords and energy. I strongly suggest checking it out"
– Crystal Churchill, Tennessee, USA
Cassady is an old soul
"…born with strong gifts of the spirit, a natural born intuitive healer, multitalented when it comes to working in the spirit realm."
– Hans Christian King, award winning psychic and author
Carried me home
"Thank you Cassady so much for your work and for being such a beautiful soul. Your resource is pure love and light – it's the one that has 'carried me home'."
– Marlene Veltre, author of "The Simple Seven"
Amazing changes in my relationships
"In the last 5 weeks while I've been doing the program I've seen a lot of awesome unexpected amazing changes in my relationships and I am able to open my heart more and more to love. I would recommend this to anyone who's looking to uplevel their love life and life in general."
-Linh Le, Hawaii, USA
A huge step on my path to love
"This program helped me to ask myself the right questions. It gave me huge awareness and I'm so grateful for that. I was feeling really good at the end of the program, very light, very joyful, very happy. It was a huge step on my path to love."
– Elodie Coudert, Paris, France
Literally transformative
"There's really no other way to put it. Every penny I've spent on Cassady's programs, and I have literally downloaded each one, has changed my life and raised my vibration to levels I didn't even know was possible. The work is absolutely wonderful, Cassady is an amazing person who will take you step by step to help you to transform your life."
– Alanna Cappello, Maine, USA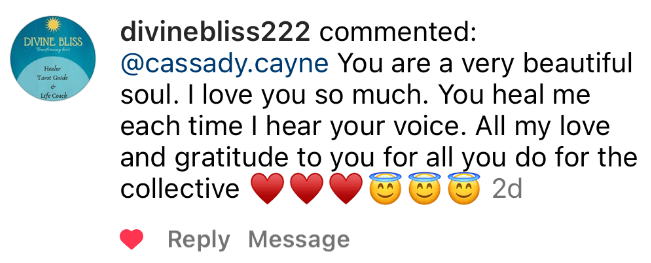 One of the best investments you can make
"The Love Blueprint is made with so much love and precision. It's really epic. It teaches you a lot about energy, about clearings, about psychology. It's one of the best investments you can make in yourself and your life - and for the people around you."
-Esther P., Strasbourg, France
Absolutely miraculous
"Cassady is an extremely clear channel and I trust her immensely. I can't advocate for this program enough. What transpired has been absolutely miraculous. So much is shifting for me. Both internally and in the external world."
- Tina Olsen, intuitive healer and coach, founder of the "Not This!" podcast
It was worth every penny
"I've been in therapy, tried astrological remedies but nothing works like the Love Blueprint Program. I'm back with the love of my life and I'm so grateful to Cassady. I recommend this to anyone who's serious about a fresh start to their relationships."
- V Shakti, India
Spread  the  Love
Do you have feedback you'd like to share?
Send Cassady a message with either a short testimonial video clip, or written testimonial of your experience working with Cassady and her courses. 
We're getting married next year!
"We've worked through our muck (with your help) and we're getting married next year!"
- Carly Carrone, Louisiana, USA
I can really recommend her
"I have got so much help from Cassadys meditations. I can really recommend her. Thank you Cassady❤️"
- Ingrid Nilsson, Gotland, Sweden
A pure soul
"Cassady Cayne is a pure soul whose connection to spirit conveys heart-warming wisdom"
- Matt Kahn, empathic medium, author of 'Everything Is Here To Help You'
From the Blog
Get involved with the conversation 
The Toxic Quiz 1 Minute Quiz Reveals if You're Attracting Toxic Partners, And How To Fix it.
Stuck In Traffic? Conflict At Work? Kids Throwing Tantrums Or The Dog Staining Your Top Just Before Leaving The House? Take A Deep Breath And Check These Mindfulness Shifts - Sometimes it's easier said than done to stay in a space of peace and positivity. When...
The Ancient Art Of Flowing With The Universal Energies. Being In A State Of Ease, Instead Of Swimming Against The Current… What If You Had A Secret Power In Life? – After the post on Manifesting With The Moon Cycles, and the Essential Info On Moon Placements and...