Inspiring and guiding others to see their own divine potential, unlock their inner light and live their highest path.
Cassady Cayne
BEST SELLING AUTHOR
As a bestselling author and thought leader in the field of spirituality, energy healing and conscious relationships, Cassady has a following of close to half a million in social media and regularly reaches over a million readers online through her blogs, YouTube pages and newsletters.
Cassady has helped tens of thousands heal, empower, uplift and illuminate their lives into a higher state with energy methods and spiritual guidance.
Get in touch with the team to book Cassady for an interview, guest blog, podcast or other media inquiries.
CASSADY CAYNE
HealerLightworkerWriter
Featured in:
Get inspired with high vibrational content
Cassady is an accomplished spiritual intuitive and bestselling spiritual author, whose blog articles are read by millions. Her YouTube page and Facebook Live sessions are loved by a wide audience of passionate seekers, and is regularly asked to write and speak for other publications. Explore some resources and features below.
Yahoo Finance
Read Now- 11 Female Entrepreneurs Everyone Will Know in 2021
Entrepreneur
Read Now-  This journalist, who lost her job to recession, found a calling while living in her parents atic
Psychology Today
Read Now- Women of Wisdom. Treasured human beings with something worthwhile to tell.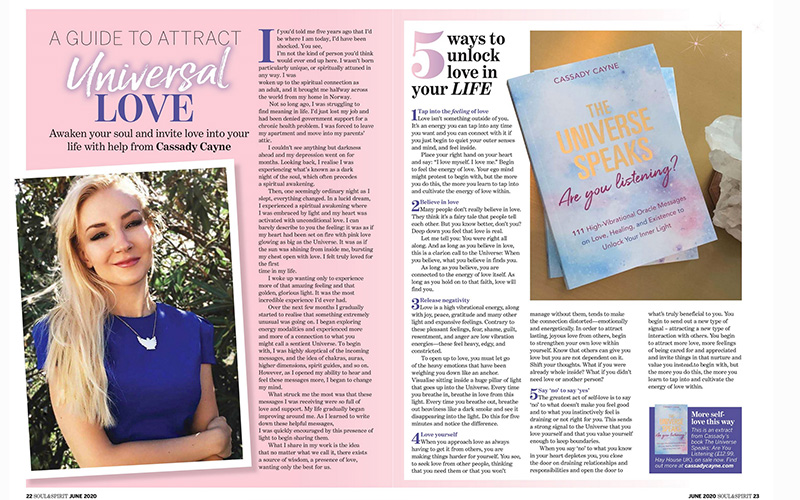 Soul & Spirit Magazine
Read Now- A Guide to Attract Universal Love
Revealing Your Inner Light
A discussion about "The Universe Speaks", the soul's deeper purpose, and so much more
Unconditional Love with Cassady Cayne
Description: A discussion about the Ascension Process, Venus Retrograde lessons, unconditional love, and more
Finding Grace with Cassady Cayne
A discussion about spiritual awakening, the dark night of the soul, forgiveness, and returning to our inner wholeness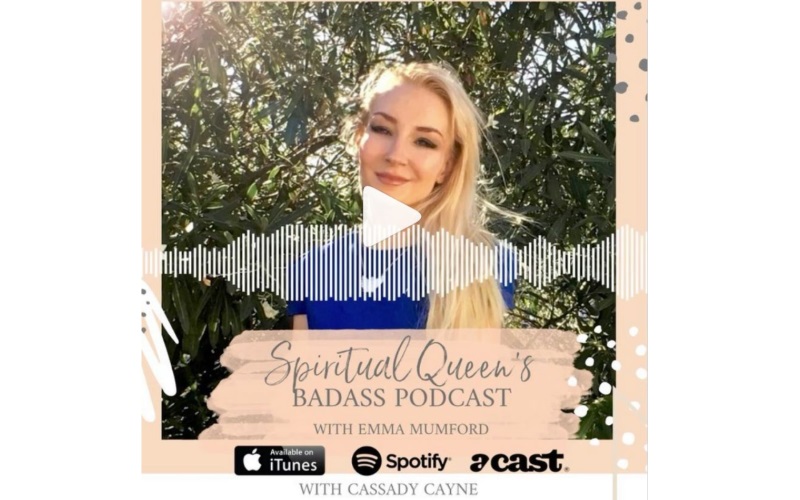 Divine Relationships & Twin Flames with Cassady Cayne
A discussion about spiritual relationships, awakening, bringing divinity into our lives, and more
The Universe Speaks Are You Listening? With Cassady Cayne
A discussion about self-forgiveness and using guidance from the universe to uplift our lives
The Universe Speaks, Are You Listening?
A discussion about finding guidance during a challenging time, plus a powerful exercise to raise your vibration instantly
Finding Our Inner Light
A discussion about spiritual awakening, connections to the divine, activating our inner light, soul mates, and the deeper purpose of who and what we attract into our lives
You Do You
Answering deep questions related to love, manifesting, soul mate connections, and energy
We're getting married next year!
"We've worked through our muck (with your help) and we're getting married next year!"
- Carly Carrone, Louisiana, USA
Cassady is an old soul
"...born with strong gifts of the spirit, a natural born intuitive healer, multitalented when it comes to working in the spirit realm."
- Hans Christian King, award winning psychic and author
I strongly suggest checking it out
"Cassady has a great program to help with clearing cords and energy. I strongly suggest checking it out"
- Crystal Churchill, Tennessee, USA
A pure soul
"Cassady Cayne is a pure soul whose connection to spirit conveys heart-warming wisdom"
- Matt Kahn, empathic medium, author of 'Everything Is Here To Help You'
Carried me home
"Thank you Cassady so much for your work and for being such a beautiful soul. Your resource is pure love and light - it's the one that has 'carried me home'."
- Marlene Veltre, author of "The Simple Seven"
I can really recommend her
"I have got so much help from Cassadys meditations. I can really recommend her. Thank you Cassady❤️"
- Ingrid Nilsson, Gotland, Sweden